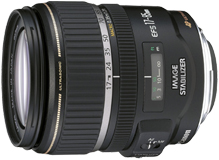 EF-S 17-85/4-5.6 IS USM Specifications
Focal Length 17 - 85mm (27.2 - 136mm full frame equivalent)
Maximum Aperture f4-5.6
Minimum aperture f22-32
Construction 17 elements in 12 groups (2 aspheric surfaces)
Diaphragm 6 blades, circular design
Diagonal Angle of View 78° 30' - 18° 25'
Focus Adjustment Internal focusing
Close Focus Distance 0.35m - 1.15 ft (at all focal lengths)
Maximum Magnification 0.2x (at 85mm)
Focusing System Ring type USM with Full Time Manual focus.
Front element does not rotate
Image Stabilization (IS) 2nd generation, with up to 3 stops of extra "handholdability" (1/15s @ 85mm, 1/3s @ 17mm)
Filter Size 67mm
Weight 16.8 oz. (475g)
Diameter x Length 3.1" x 3.6" (78.5 x 92mm)
Here's a small table showing how the maximum and minimum aperture varies with focal length:
Focal Length 17mm 24mm 35mm 50mm 70mm 85mm
Aperture Range f4.0 - f22 f4.5 - f25 f5.0 - f29 f5.6 - f32 f5.6 - f32 f5.6 - f32
A good lens with a very effective Image Stabilization system. Perhaps the best "one lens" choice for the Digital Rebel XT and EOS 20D/30D.
The Canon EF-S 17-85/3.5-5.6 IS USM is designed for use on the Canon EOS Digital Rebel, Digital Rebel XT, EOS 20D and EOS 30D Digital SLRs. It's a general purpose lens with a field of view coverage equal to that which would be given by a 27-136mm zoom on a full frame 35mm camera, so it's pretty much an analog of the well respected EF 28-135/3.5-5.6 IS USM. It covers the focal lengths most commonly used by the majority of photographers.
The EF-S 17-85/4-5.6 IS has a ring USM motor with full time manual focusing and 2nd generation Image Stabilization (IS) technology. That means it gives up to 3 extra stops of "handholdability" (the EF 28-135 IS has 1st generation IS which can provide up to 2 stops of added stability). As shown in the construction diagram below, the EF-S 17-85/4-5.6 IS USM has 17 elements in 12 groups and it has one aspheric element with two aspheric surfaces for better control of aberrations.
Construction
The construction of the EF-S 17-85/4-5.6IS USM is good and typical of Canon's mid-price consumer lenses. It has a metal lens mount and has a semi-matte black finish. The zoom and focus rings are patterned for better grip and the barrel has switches on the left side for IS on/off and AF/MF.. Zoom extension is smooth and well damped and there is no evidence of any "zoom creep" when the lens is pointed up or down. There is no "play" in the extended zoom barrel. Manual focus via the Full Time Manual focus mechanism is smooth with no play or backlash. The lens has a window with a distance scale, but as is common with zooms, there is no depth of field scale. The distance scale is marked in both feet (2, 3, 5, 10 and 50ft) and meters (0.6, 1, 1.5, 3 and 10m)
Zoom positions of 17, 24, 35, 50, 70 and 85mm are marked. The front of the lens is equipped with a bayonet type fitting for the accessory "petal style" lens hood (model EW73B).
Focusing
As expected from any lens using Canon's ring USM focusing motor, focus is both fast and silent. I measured the time to go from closest focus (0.35m) to infinity to be around 315 milliseconds (0.315 seconds). The total cycle time when no focus was found (lens cap on!) from infinity to close focus, pause, and back to infinity was 1 second.
The EF-S 18-55 has a similar focus time from close focus to infinity, but a longer cycle time (1.375 seconds) and is significantly more noisy. Here are two audio files of focus noise with the lens focusing from infinity to close focus and back to infinity (lens cap on). These were taken with the microphone actually on the lens in order to pick up the sound of the USM motor! Under normal shooting conditions it's hard to hear the USM motor.
Vignetting
Like all lenses there's some visible vignetting when shooting wide open, but it's not too bad. It shows up most when shooting a totally uniform target, such as a grey card or a painted wall, at 17mm there's some darkening in the corners, but it's nothing that a tweak in PhotoShop, DxO or other image editor can't take care of.At 85mm vignetting is less and is gone when stopped down a stop to f8.
Image Stabilization
The EF-S 17-85/4-5.6 IS USM has Canon's 2nd generation IS. The 1st generation gave up to about 2 stops of stabilization, while 2nd generation gives up to 3 stops.
---
Conclusions
The EF-S 17-85/4-5.6 IS USM is a very useful lens. Sharpness is generally good in the center, with some softening in the corners, especially at wide aperture. Pretty normal performance for this class of lens and quite comparable to the EF 28-135/3.5-5.6 IS. There is some lateral chromatic aberration, especially at the wide end of the zoom range, but it's not excessive. There's visible barrel distortion at 17mm which could be a problem if you were shooting subjects with rectangular lines such as framed artwork or buildings and didn't correct for it. However since this is a lens which only fits digital cameras and since correction of barrel distortion is a simple process in almost any image editor, geometric distortion isn't the problem it would be if you were, say, shooting slides for projection.
The Canon EF-S 17-85/3.5-5.6 IS USM seems like an ideal general purpose lens. It covers the focal lengths most frequently used by most photographers (27mm wideangle to 136mm telephoto in full frame 35mm terms). On top of this it has 2nd generation Image Stabilization which is very effective and can give you up to 3 stops of extra "handholdability". This partly makes up for it's relatively slow speed at the longer end of its range. Coupled with an EF 70-300/4-5.6 IS USM (see full 70-300 review here) it would give a photographer a very wide range, without much focal length overlap between the lenses, and with 2nd generation IS on both lenses!
Πηγή:bobatkins.com






Registration date :

01/01/1970



Σύμφωνα με το Digital photo
ο Canon EF-S 17-85mm f/4-5.6 IS USM συνδιάζει ένα πολύ χρήσιμο εστιακό μήκος με IS (Image Stabilization), μικρό βάρος και καλές επιδόσεις. Συνήθως πωλείται πακέτο με κάποιο σώμα και πολύ σπάνια κάποιος τον αγοράζει ξεχωριστά.

Αναγγέλθηκε τον Αύγουστο του 2004 σαν ένας φακός ζουμ γενικής χρήσης για ψηφιακές μηχανές SLR με μπορντούρα EF-S, πράγμα που σημαίνει οτι είναι συμβατός μόνο με τα σώματα καμερών με crop 1,6x όπως η 30D, 40D, 400D κλπ. Ο Canon EF-S 17-85mm f/4-5.6 IS USM διαθέτει τρίτης γενιάς IS, που σημαίνει ότι δίνει σταθεροποίηση μέχρι 3 f-stops. Με λίγα λόγια ο συγκεκριμένος φακός δίνει σταθερές φωτογραφίες χωρίς τη χρήση τρίποδου ακόμα και με ταχύτητα διαφράγματος στο 1/3sec.

O Canon EF-S 17-85mm f/4-5.6 IS USM διαθέτει το γνωστό USM σύστημα αυτόματης εστίασης, το οποίο εστιάζει πολύ γρήγορα και αθόρυβα. Το IS επίσης είναι πολύ αθόρυβο. FTM (Full Time Manual) εστίαση είναι δυνατή και σε AF mode. Ο Canon EF-S 17-85mm f/4-5.6 IS USM εκτείνεται κατά τη διάρκεια της εστίασης αλλά δεν περιστρέφεται κάνοντας δυνατή τη χρήση πολωτικών ή ND φίλτρων χωρίς πρόβλημα.

Παρ' όλο που ο Canon EF-S 17-85mm f/4-5.6 IS USM δεν είναι ένας macro φακός εστιάζει στα 1,15'. Είναι αρκετά κοντά ώστε να γεμίσει ο φακός με πιο μικρά πράγματα όπως λουλούδια, κλπ.

Ο Canon EF-S 17-85mm f/4-5.6 IS USM έχει μια αξιοπρεπής ποιότητα κατασκευής. Το πλαστικό κυριαρχεί στην κατασκευή αλλά είναι πάρα καλής ποιότητας.

Οπτικά ο φακός, μπορεί να μην είναι ποιότητας L, αλλά θα έλεγα οτι πλησιάζει αρκετά. Είναι αρκετά οξύς σε όλα τα εστιακά μήκη, οι αντανακλάσεις είναι αρκετά ελεγχόμενες και το βινιετάρισμα είναι αντιληπτό στο πολύ wide άνοιγμα του φακού.

Σαν ένας μη L φακός δεν περιλαμβάνει στη συσκευασία του το παρασολέιγ, ούτε θήκη. Για παρασολέιγ θα πρότεινα το Canon EW-73B.

O Canon EF-S 17-85mm f/4-5.6 IS USM δεν είναι ο φακός που θα χρησιμοποιηθεί για να σταματήσετε τη δράση εκτός και αν στο χώρο υπάρχει πολύ φως. Είναι εξαιρετικός όμως για χρήση σαν all around φακός. Ειναι ο ιδανικός φακός που θα χρησιμοποιήσουμε για μια βόλτα στην πόλη ή στην εξοχή. Το μικρό του βάρος και το εστιακό μήκος που καλύπτει καθώς και η λειτουργία του IS τον κάνουν σαν μια αρκετά ενδιαφέρουσα επιλογή για κάποιον που ζητάει ένα καλό φακό γενικής χρήσης.

Τεχνικά Χαρακτηριστικά του φακού Canon EF-S 17-85mm f/4-5.6 IS USM



Μέγεθος εικόνας: APS-C
Αριθμός λεπίδων διαφράγματος: 6
Μέγιστο άνοιγμα: 4-5,6
Ελάχιστο άνοιγμα: 22-32
Διάμετρος φίλτρου: 67χιλ.
Διαστάσεις: 78.5 x 92
Βάρος: 475 γραμ.
Παρεχόμενα αξεσουάρ: Καπάκια προστασίας μπροστά και πίσω

photoman




Αριθμός μηνυμάτων

: 52


Ηλικία

: 52


Ασχολίες

: dancing, ballet, French, chat


Registration date :

04/10/2008




---
Δικαιώματα σας στην κατηγορία αυτή
Δεν μπορείτε
να απαντήσετε στα Θέματα αυτής της Δ.Συζήτησης