Choices, choices, we're all confused by choices! The EOS 40D vs. the EOS 50D - The Nikon D90 vs the Nikon D300 - the Nikon D300 vs. the EOS 50D? With so many good DSLRs available and prices from under $500 to over $7000 it can be quite confusing when it comes to picking the "best" one. "Best" usually includes price of course, so here I'm looking at four "Advanced Amateur/Semi-Professional" DSLRs from Nikon and Canon, the Canon EOS 40D, the Canon EOS 50D, the Nikon D90 and the Nikon D300. They all all in the $900-$1400 approximate price range. More expensive than $500 entry level DSLRs, but much cheaper than the full frame professional models such as the Nikon D3 and Canon EOS 5D MkII which are closer to $3000.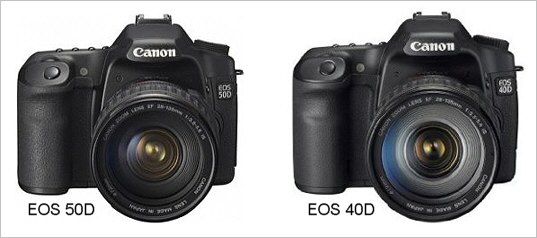 If you're a Canon shooter with a bag of Canon lenses, you'll obviously be looking at the EOS 40D and EOS 50D. The choice is really based on price. The 50D has everything the 40D has, and more. More pixels, more features, a better LCD, microfocus adjustment, peripheral illumination control, faster operation and a price that's currently around $350 higher then the EOS 40D. I'd pick the EOS 50D at $1200 if I could afford it, but if not the EOS 40D is quite a bargain at around $850. Yes, the 50D may have slightly higher intrinsic noise than the 40D, but the increased resolution and noise reduction software work together to produce an image at least equal to and usually better than that of the EOS 40D. That, together with the more advanced features of the 50D would make it my preferred choice. Of course I'm still personally using and EOS 40D and it is a very good camera. If you want to save around $350. then I'd have no hesitation in saying that the 40D is a camera worth owning (I do!).

If you're a Nikon user with Nikon lenses then you're probably going to be looking at the Nikon D300 and the Nikon D90. In just about every way, the D300 is a more capable camera, but then it should be since the price is around $500 higher than the D90. The only real feature that the D90 has that the D300 doesn't (and no other camera in this price range does) is the ability to shoot movie clips. On the other hand for a more novice photographer the D90 may provide all the features that are needed or wanted, and the image quality of the D90 is excellent and can be just as good as that of the D300 under many circumstances. You certainly don't have to spend the extra $500 for the D300 if you're a hobbyist looking for good image quality and a camera you can grow into. If I was making a living at photography, I think I'd pick the D300 though.
If you're not already invested in either Canon or Nikon, then how do you decide? Well, I wouldn't base my choice on any single camera body since it's highly likely that within the next 18-24 months all these cameras will have been replaced by models with more features, better performance and possibly even lower prices! Choosing between Canon and Nikon comes down to personal preference for the way the cameras handle and what lenses or other accessories you really want. You're buying into a system, not just into a single camera. There's no "right" or "wrong" choice here. Both Canon and Nikon are here to stay, both make excellent cameras and lenses and their prices are competitive. I shoot with Canon, but that's based on a decision I made over 20 years ago based on what was available then. I'm very happy with Canon gear, but I suspect I'd also be happy with Nikon if that's the way I'd gone. Based on the fact that I do shoot Canon and have a bag of Canon lenses, my choice here would obviously be the EOS 50D.
Below is a table comparing many of the more important specifications of the EOS 40D, the EOS 50D, the Nikon D300 and the Nikon D90. As you can see, they really aren't all that different. The EOS 50D has the most pixels (15.1 million) and the EOS 40D has the least (10.1 million), but quite honestly the difference it makes in prints isn't really obvious until you get to large print sizes. Both the Nikon D300 and Nikon D90 have 12.3 million pixels, falling between the EOS 50D and EOS 40D. Nikon cameras can wirelessly control an external speedlite from their built in flash, but Canon cameras require a 550/580EX series speedlite in the hotshoe or a hotshoe mounted flash controller. This is a plus for Nikon. Both systems use stabilization built into their lenses rather than the body as Pentax and Sony do. In the end I think the choice becomes "Nikon or Canon", then you buy the best camera you can afford. Any of these cameras will produce excellent images in the hands of a knowledgable and skilled photographer and all offer a level of creative control which will allow a novice to grow into an expert (though none will guarantee that that will happen!).
Note that through January 17th 2008, Canon have a $100 "instant rebate" on the EOS 50D and a $50 "instant rebate" on the EOS 40D. These "instant rebates" are reflected in the vendor's selling price. Nothing has to be mailed in (which is good!).
Συγκριτικός πίνακας
If all these cameras are outside your budget (and these days all our budgets may be smaller than they used to be!), the you could do a lot worse than to take a look at the Canon EOS XSi, especially in the kit with the EF-S 18-55/3.5-5.6IS SUM lens. With a 12MP CMOS sensor, the absolute image quality can rival that of the other cameras listed here. The ISO range is a little more limited (100-1600), it can't shoot quite so fast, it doesn't have quite so many "bells and whistles" (but it has enough to keep almost anyone busy) but it does cost significantly less. The 18-55IS lens is actually quite a good starter lens, with very effective image stabilization built in. The Digital Rebel XSi is an excellent introductory level DSLR if your budget is tight.
Πηγή : bobatkins.com






Registration date :

01/01/1970




---
Δικαιώματα σας στην κατηγορία αυτή
Δεν μπορείτε
να απαντήσετε στα Θέματα αυτής της Δ.Συζήτησης